Information gathered from RedRC.net .......
what else can i say except .......................... me likey ........
papi ..... kindly arrange the JJ FF-03 Pro Batch please .......
Tamiya FF03 Pro chassis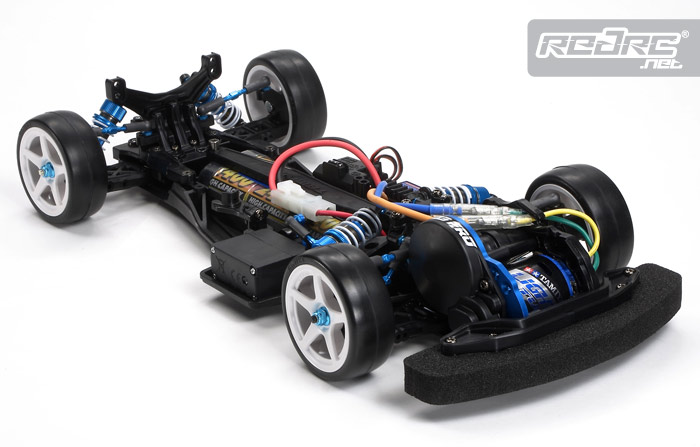 Tamiya have announced the release of the FF-03 PRO, their newest touring car chassis kit. The FF-03 chassis features a horizontally-placed front-motor, front wheel drive and comes enhanced with a range of high performance parts to offer you a new driving experience. Due to its unique chassis layout and FWD setup, you can enjoy a style of driving different from 4WD chassis machines. The chassis features a newly designed lower deck and comes with a compact front gearbox. Suspension is equipped with short reversible suspension arms and TRF416 uprights on the Inboard Front Suspension (IFS) setup. True to its name 'Pro', high-spec parts such as TRF dampers, aluminum turnbuckle shafts and aluminum ball connectors are also included in the kit.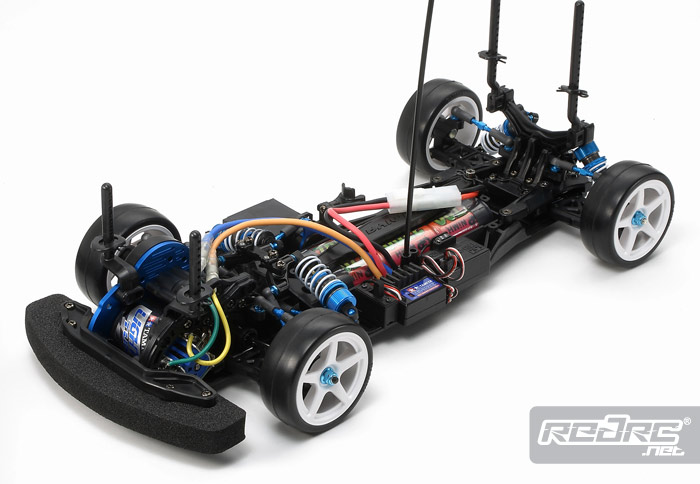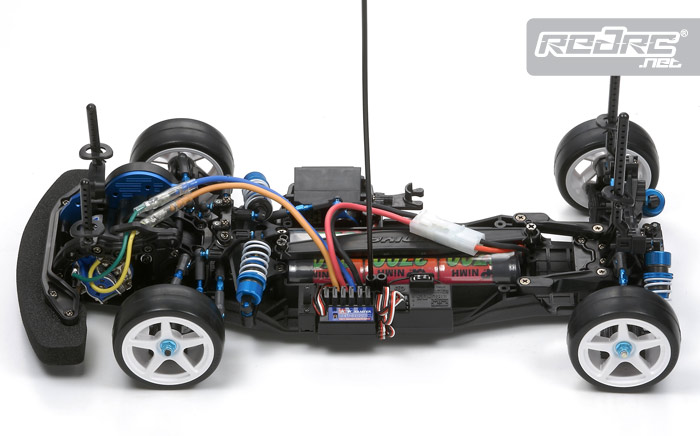 About the Model-This is a 1/10 R/C assembly model kit.
-Chassis length: 384mm, Overall width: 185mm, Tread: 157mm, Wheelbase: 257, 245, 233mm.
-FWD chassis features front-mounted motor and is designed for optimum weight distribution and a low center of gravity.
-Body, tires, ESC, motor, R/C unit, battery and charger not included.
FF-03 PRO Chassis Kit includes the following Option Parts:
-Item 42102 TRF Special Damper (Hard Black Coating) plus Titanium Coated Piston Rods and White Coil Springs (Medium x2, Hard x2)
-Item 51000 Hi-Torque Servo Saver (Black)
-Item 53159 4mm Anodized Aluminum Flange Lock Nuts (Blue)
-Item 53642 5mm Aluminum Ball Connector (Blue)
-Item 54121 Aluminum Horn For Hi-Torque Servo Saver
-Item 54223 FF-03 Aluminum Motor Plate (Blue)
-Aluminum Turnbuckle Shafts (Blue)
-5mm Adjuster (Gray)
The following Spare, Option, and Limited Edition parts for FF-03 Chassis machines will also be released in conjunction:
51419 FF-03 B Parts (Bumper)
51422 FF-03 M Parts (Damper Stay)
51423 FF-03 06 Spur Gear (68T)
54223 FF03 Aluminum Motor Plate (Blue) (Tentative)
54226 3/32 Inch Tu Ball (12pcs.)(Tentative)
54227 FF-03 04 Module Spur Gear (102T)
54228 Fluorine Coated 06 Module Pinion Gear (26T, 27T)
54229 Fluorine Coated 06 Module Pinion Gear (28T, 29T)
54230 FF-03 Stabilizer Set (Front & Rear)
54233 FF-03 Aluminum Diff Joint Set
54234 FF-03 Aluminum Spur Gear Mount
84130 FF-03 Ti Screw Set
FF-03 chassis machines are compatible with many 1/10 R/C touring car Spare Body Sets, but they are NOT compatible with the following:
Item 50809 Peugeot 306 Maxi WRC Body Parts Set
Item 51223 Audi A4 DTM 2005 Lightweight Body Parts Set (Finished)
Item 51265 ADVAN Courage LC70 Mugen Body Parts Set (Finished)
Item 51288 BMW 320si WTCC 2006 Team Germany Body Parts Set
Item 51292 EBBRO 350R Body Parts Set
Item 51295 BMW Z4 M Coupe Racing Body Parts Set
Item 51306 Raybrig NSX 2007 Body Parts Set
Item 51322 Nissan Fairlady Z Version NISMO Body Parts Set
Item 51357 ARTA Garaiya Body Parts Set
Item 51359 Xanavi NISMO GT-R (R35) Body Parts Set
Item 51395 Corolla Axio apr GT Body Parts Set
Item 51396 BMW M3 GT2 2009 Body Parts Set
Item 51401 Lancia Delta Integrale Body Parts Set
Slim chassis features longitudinal battery position. R/C unit is placed on each side for optimized chassis balance.
Motor is securely attached to blue-anodized aluminum motor plate which enhances dissipation of motor heat. The compact gearbox is equipped with a large-sized ball differential.
Front suspension features the IFS setup. The damper mount is equipped with stabilizer holders.
3 wheelbases (257, 245, 233mm) can be assembled by replacing rear block parts. Rear dampers can be installed to either side of the suspension arms.