BMW 2002 Turbo Body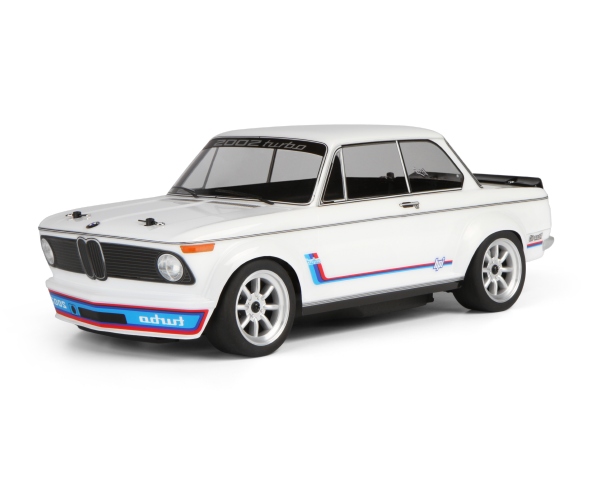 The 1973 BMW 2002 Turbo was BMW's first production turbocharged car, with forced induction giving it remarkable performance for its era. Born in a turbulent time of gas shortages and new safety regulations, the 2002 Turbo boldly wore its performance image in the form of brightly colored reverse-facing "turbo" graphics on the front spoiler. Produced for a short run of fewer than 1,700 cars, surviving 2002 Turbos are now prized by BMW collectors around the world.
HPI replicates the iconic BMW 2002 Turbo shape in R/C form with scale realism and incredible detail. From the widened wheel arches to the deep front spoiler, it's all there. The body comes in clear polycarbonate so you can paint it with your own favorite color scheme. It's a perfect fit on Cup Racer and Switch cars as well as many other "Mini" size cars with 225mm wheelbases.
We've included front & rear light buckets for the ultimate in realism. The huge vinyl pre-cut decal sheet comes all of the good stuff: turbo stripes, window lines, official BMW logos and HPI logos, and all of the details to make an authentic replica.
Like all HPI bodies, the BMW 2002 Turbo comes with a clear protective overspray film, window masks and a large pre-cut decal sheet. The body also has drill locations marked for HPI Cup Racer cars, making it easy to line up the body mount and antenna holes.
Premium vinyl decals include window frames, headlights, grill, tail lights, official logos and more - For a perfect finish with a lot of details
Front and rear light buckets - allows you to add real lights for the ultimate realism
High quality polycarbonate with excellent dimensional stability and impact resistance - For extra strength and longer life
Molded from clear polycarbonate plastic for durability and long life
This is an officially licensed replica.
Clear body (finished example shown)
Pre-marked body post holes - For easy mounting on HPI cars
Fits the HPI Cup Racer, HPI Switch and other "Mini" size cars
#7215 BMW 2002 TURBO BODY (WB225mm.F0/R0mm) $30.00
Source:
www.hpiracing.com